Become an Instructor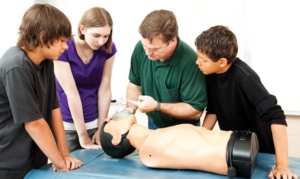 CPR Essentials is looking for Instructors to assist in teaching of all of our course offerings.
Qualifications: Current Certification in the course to be taught (BLS, CPR/AED, First Aid, ACLS, PALS), and a current Instructor certification in the same course. If you don't currently have these, we can get you certified.
Steps To Get Certified:
Have a completed Instructor Candidate Application on file with CPR Essentials before registering for the Instructor Course.
Have a current Certification and be proficient in all the skills of the discipline you'd like to teach (BLS, CPR/AED, First Aid).
Successfully complete the discipline-specific classroom Instructor Course.
Successful monitoring of your first teaching course within six months of completing the discipline-specific classroom Instructor Course.
Additional Requirements: Reliable transportation, DVD Player, Basic Computer skills
Instructor status will allow you to teach for us as well as offer your own classes under your brand.
To apply or get more info, email us at info@cpr-essentials.com. To see our schedule of upcoming Instructor Courses, click Instructor Courses.
Feel free to contact us with any questions or requests you may have…..